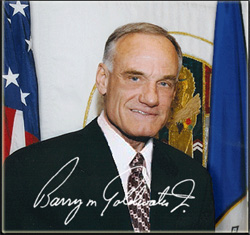 Barry M. Goldwater, Jr.Co-Director of NCM Board of Advisors
Member United States Congress (RET.)
Life Member American Numismatic Association
We're proud of our association with Barry M. Goldwater, Jr.
After all, the Goldwaters are a legendary American family. From great grandfather, Mike Goldwater, who opened his first dry goods store in Prescott, Arizona in 1850, through the generations of Goldwaters who expanded the store into a successful department store chain, to his famous father, Barry Sr., who was A CANDIDATE FOR THE OFFICE OF PRESIDENT OF THE UNITED STATES and the icon of Conservative politics in America, the Goldwaters have always earned the respect of their community, their state and their nation. Barry Morris Goldwater, Jr. has followed successfully in their footsteps.
During his 14 years of SERVICE TO OUR COUNTRY in the U.S. Congress, he was in the forefront of activities on issues that remain important to our citizens today; issues like energy and privacy. He authored the Solar Photo-Voltaic Energy Act and the Right to Privacy Act, among others. He served on the Committee on Science and Technology, the Committee on Public Works and Transportation and the Joint Committee on Energy. He continues to promote conservation and ecological programs, energy efficiency, the right to privacy and a return of the balance of power to the states and to the people, among other issues.
Barry M. Goldwater, Jr. is more than just a patriot, more than a compassionate
conservative... He is a Humanitarian!
He is the recipient of the Distinguished Service Award of the A.C.A.; the Conscience of the Congress Award of The American Conservative Union; a Leadership Award for work on behalf of the deaf; an Award for Achievement from the National Academy of Television Arts and Sciences; a Humanitarian Award for helping the disadvantaged and a Leadership Award from the President's Commission on Employment of the Handicapped.
In addition to serving as Director of the Barry M. Goldwater Foundation for Excellence in Education, a foundation established by an Act of Congress, based in Washington, D.C., he is or has been affiliated with organizations as diverse as the National Aeronautic Association, the National Wildlife Federation, and the Veterans of Foreign Wars of the United States. He is a Life Member of the American Numismatic Association.
As Co-Director of National Collector's Mint's Board of Advisors, Mr. Goldwater inspires us to strive to always do better for our customers, to find and procure the best products and to charge a fair price. This is part of our pledge to him and our pledge to you. From minting and striking our famous coin and currency commemoratives to finding rare U.S. coins and providing you with some of the most UNIQUE products in ALL the world, we are committed to do our best for you. Anyone named Goldwater wouldn't have it any other way!